Description
802.3af PoE SIP IP Phone

Supports the business to build high performance with low cost VoIP communications, PLANET now Introduces the latest family member of IP Phone, the VIP-256PT, the
second-line professional PoE IP Phone.
The VIP-256PT makes it simple for the enterprise combining ITS voice and data systems or voice system expanding to new locations. It Helps the company to save money on long distance charges, for example, the remote workers Can dial in through a VoIP Unified Communication System just like an extension but no long distance call charge would occur. The VIP-256PT Also Allows Transferring to call anyone at any location you Within the system, Which enables the enterprise to Communicate Effectively and more helpful to streamline business processes.
Full-Feature Enhanced Business IP Phone
The VIP-256PT is a full-featured enhanced business IP Phone That addresses the communication needs of the Enterprise. It Provides two voice lines, dual 10/100Mbps Ethernet ports Integrating IEEE 802.3af Power over Ethernet circuitry Which Offers benefits of flexible IP Phone Reducing installation and cabling expenses and cord clutter. Furthermore, the VIP-256PT Delivers user-friendly design containing a 128 × 32 Graphic LCD with white backlight, 2 line keys and four soft keys, and 10 multi-functional keys with dual color LED.
Secure High Quality VoIP Communication
The VIP-256PT V2 supports SIP for easy integration with general voice over IP system. It Can Also Deliver effortlessly secured by toll voice quality Utilizing cutting-edge 802.1p QoS (Quality of Service), 802.1Q VLAN tagging, IP TOS and technology.
Aplicações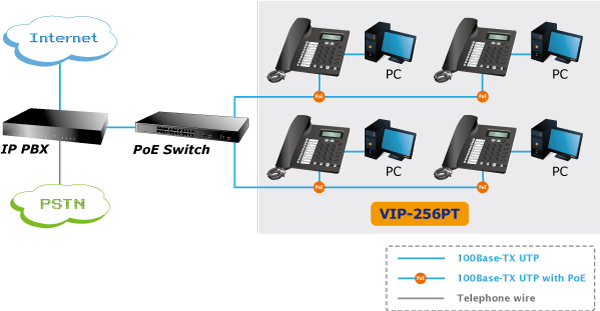 Enterprise IP PBX Deployment with VIP-256PT
Características
• IEEE 802.3af Power over Ethernet (PoE) compliant
• Full-Duplex Speakerphone
• 128 x 64 Graphic LCD with white backlight
• Supports BLF (Busy Lamp Field) / Black list / SMS Functions
• Efficient deployment of IP PBX solution
• Reversible base stand and wall mount installation options
• TR069 / Auto Provisioning: TFTP, HTTP and HTTPS
Model
VIP-256PT
Hardware
Internet
10/100M, Half or Full Duplex, auto-negotiation (IEEE 802.3af Power over Ethernet (PoE) compliant)
PC
10/100M, Half or Full Duplex, auto-negotiation
Display
128 × 64 Graphic LCD with white backlight
Headset Jack
RJ-9
Function Keys
2 line keys and four soft keys
12 Dialing buttons (0 ~ 9, *, #)
Multi-functional 10-key with dual-color LED
Protocols and Standard
Standard
SIP V2 (RFC 3261, 3262, 3263, 3264)
Backward Compatible with RFC 2543
Session Timer (RFC 4028)
SDP (RFC 2327)
RTP / RTCP (RFC 1889 and RFC 1890)
NAPTR for SIP URI Lookup (RFC 2915)
STUN (RFC 3489)
ARP / RARP (RFC 826/903)
SNTP (RFC 2030)
DHCP
HTTP Server for Web Management
TFTP / HTTP / HTTPS for Auto Provisioning
Message Waiting Indicator (RFC 3842)
DNS / DNS SRV (RFC 1706 and RFC 2782)
IEEE802.1Q VLAN/802.1p and IP TOS
VPN Network
PPTP encryption and T2TP c
Voice Code
G.711 (A-Law, μ-Law), G.729, G.723, G.722
Standard Voice
Adaptive Jitter Buffer Management
Voice Activity Detection
Comfort Noise Generation
Echo Cancellation
Security
802.1p (QoS)
User Authentication for configuration pages
Features
Call Features
2 lines
Call Waiting
Auto Answer
Caller ID and call waiting ID
3-Way Conference
Call Mute, Redial, Speed ​​Dial, Pick up, Call Park, Dial Plan, DND, Call Hold, Call Forwarding
Call Transfer: Blind transfer and attended transfer
SMS Functions
Supports BLF (Busy Lamp Field)
Phonebook
Black List
Call log, Redial list, answered calls and missed calls
Full-duplex Speakerphone
Volume Adjustment: Handset / Headset, Speaker and Ringer
MAC address cloning
SIP proxy redundancy: dynamic via DNS SRV, A records
Direct IP to IP calling
NAT Traversal: Traversal by STUN
Built-in NAT Router
QoS with Layer 2 and Layer 3
DHCP Server and Client
IP conflict detection
Supports IEEE802.3af Power over Ethernet (PoE)
Network and Configuration
Internet Connection Type
Fixed IP, DHCP, PPPoE
Management
LCD / Keypad UI
Web (HTTP)
Auto Provision (TFTP / HTTP / HTTPS)
Dimension (W x D x H)
191 x 205 x 75 mm
Operating Environment
0 ~ 50 Degree C, humidity 10 ~ 90%
Power Requirement
5V DC, IEEE 802.3af Power over Ethernet (PoE)
EMC / EMI
FCC, CE